Accurate Mass Spectrometry Software Solutions
Cerno develops and publishes award-winning mass spectrometry calibration and analysis software
DEMO YOUR DATA
Cerno's software not only enables formula determination at unit mass resolution (single or triple quad) with 100x improvement in mass accuracy (CLIPS), a capability typically reserved only for HiRes MS systems, but also improves formula ID at HiRes by 20x through the Spectral Accuracy concept (sCLIPS).  These dramatic results are enabled through the patented TrueCal™ calibration process and validated by hundreds of publications and thousands of satisfied users across the world.
For unit resolution quadrupoles:
100x better mass accuracy
up to 99.9% Spectral Accuracy
Confident elemental composition determination
Mixture deconvolution for isotope analysis and large molecule deconvolution
For high resolution TOF, Orbitrap, FT ICR:
Self-calibrates peak shape without standards for exact isotope modeling
Eliminates 95-99% of incorrect formulas with high spectral accuracy
Quantitative measurements for biologics degradation analysis
Extractables and Leachables Event: Sponsored by Cerno Bioscience
Technology Spotlight: Software Automation for E&L at 9:05 Thursday November 2, 2023:
Improving the E&L GC/MS Workflow with Software Automation.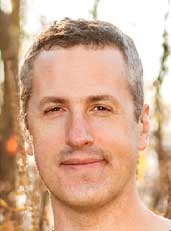 Benjamin Johnson, Manager, GC/VOC Lab, NSF International
(Co-Authors: Don Kuehl & Yongdong Wang, Cerno Bioscience)
MassWorks TrueCal™ calibration technology
MassWorks TrueCal™ calibration technology provides advantages for both high and low resolution instruments.
Proper mass spec calibration
Proper mass spec calibration also means that complex mixture deconvolution of overlapping and interfering ions is easy and provides the most accurate quantitative results.

Powerful GC/MS Analysis Software – GC/ID™
GC/ID is the first major breakthrough in GC/MS in decades
GC/ID is a fully automated compound identification application that offers new levels of accuracy and confidence in GC/MS qualitative and semi-quantitative analysis.  Based on the new MassWorks Rx configurable platform, GC/ID offers powerful new capabilities to GC/MS including:
Uses the industry standard NIST search engine
Retention Index (RI) matching provides unsurpassed unknown ID confidence
Accurate mass analysis of molecular/fragment ions for confident compound ID
Magic Highlighter indicates at a glance the correct match by combining search, RI, and formula ID
LEARN MORE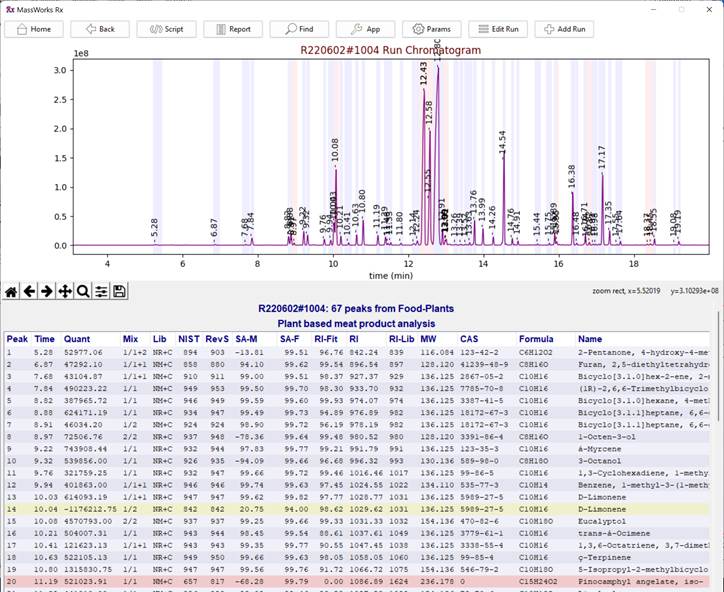 The software that started it all… MassWorks™
Easy-to-use post acquisition software | Achieve high Mass Accuracy and high Spectral Accuracy
With over a dozen patents and 1000's of users, the award winning MassWorks established the performance benchmark for "True" mass spec calibration.  MassWorks is a Windows based desktop software that works with most MS vendor instruments by directly reading the data files making the powerful calibration and analysis technologies available to both nominal and high resolution instruments.
LEARN MORE
Cerno Introduces SAMMI
Cerno calibration technology provides a new innovative approach to large molecule analysis for peptides, proteins, oligonucleotides,  and any multiply charged molecule.
READ MORE
GC/MS Automated Retention Index
Watch the following webinar GC/MS analysis using automated retention index and library search. Improving the confidence of unknown identification in GC/MA with Don Kuehl.
WATCH WEBINAR
MassWorks Version 6.1
MassWorks 6.1 is still the easy-to-use post acquisition software package that utilizes Cerno's patented TrueCal™ technology to achieve high mass accuracy and high Spectral Accuracy.
LEARN MORE
NIST and Wiley MS libraries
Cerno is an authorized distributor of all NIST and Wiley MS libraries making over 1,000,000 unique compounds available at great prices!  Contact us for a quote for new libraries or upgrades.  New! NIST23 is now available in Agilent PBM format.
LEARN MORE
What is Spectral Accuracy
Learn how the Cerno patented TrueCal mass spec calibration works and why it is such an enabling technology for unit resolution mass spectrometers.
WATCH VIDEO
The concept of Spectral Accuracy for Mass Spectrometry
With the introduction of spectral accuracy, a companion concept to the better known mass accuracy, new capabilities previously thought unfeasible can now be enabled for MS.
LEARN MORE
"First let me say, we just finished the first month using GC/ID, and it works really well. Better even than we had hoped. This is really a great tool for us, so thanks for all the work you everyone at Cerno have put into it. "

NSF International

Benjamin Johnson

"We have used your MassWorks for all our publications of this year (for formula ID), we have found that in most of the cases the (mass) error is about 10 ppm" ( using LC and GC/MS single quads in 13 publications in organocatalysis in 2017-2018 all in peer reviewed journals)

Universidad Autónoma de Madrid

Dr. José Alemán

"Your software [MassWorks] continues to amaze. Your first candidate is indeed the unknown -- atranorin [LC/MS]. I'd like to get the software that works with both our Shimadzu GC-single quad and our Shimadzu LC-triple quad."

Oberlin College

Dr. Robert Thompson

"MassWorks has proven itself on our GC/MSD system for accurate mass measurements and unknown formula ID.  When applied to LC/MSD, it also worked amazingly well to provide accurate mass results for the identification or confirmation of small molecule organic compounds"

Universidad Autónoma de Madrid

Dr. José Alemán

"Starting a little bit "speechless" from our side your Presentation helped really changing our mindset, from "unbelieving" into "believer". After this Test with a sample taken from real life with real interferences my colleagues and I fully agree that MassWorks is indeed a powerful tool for advanced GC/MS analysis. We found that MassWorks is really a "must have" product for us..."

Researcher from a large German chemical company

"I have tested and used the MassWorks software since the summer of 2007. The main purpose for me is using its formula ID feature to confirm the GC/MS NIST library search results for unknown chemical substance identification especially when the [NIST] search match values are similar for more than one compounds. The software is relatively simple to use and most times provides the #1 match for our testing chemicals with more than 200 compounds in a variety of chemical groups."

User from a United States Government Environmental Lab

"The accurate mass profile extract ion chromatogram (AMPXIC) obtained through accurate mass measurement and isotope profile-mode filtering [performed with MassWorks] eliminated the false positive peaks observed using conventional XIC in the metabolite profile."  

-

Click here to read full presentation

Wyeth Research

M.Zhang,M.Gu,N.Kagen ASMS2008

"Determining the elemental composition of pure materials at modest resolution typical of quads has never been routinely practiced – CLIPS brings that task very close to practice for the general user. It is not too much of a stretch to suggest CLIPS will enhance the confidence of TOF-based assignments as well, which may even challenge slower FTMS-based determinations."

User at a large midwest consumer products company

"The use of exact isotope modeling [with MassWorks] is key to unique formula ID [with FT-ICR] and profile mode peakshape calibration is needed to achieve the required Spectral Accuracy."  - Click here to read full presentation

Boehringer Ingelheim

S.Pennino,F.Qiu,Y.Wang ASMS2008

"The program is very easy to learn, it literally took minutes to get the first exciting results. On our 10 year-old triple quad, we manage to achieve mass accuracies of 10 ppm or better, routinely! It has become an integral part of our characterization pipeline for newly synthesized compounds."

University of Vienna

Dr. Alexander Leitner