While TrueFit MX provides spectral deconvolution of mixtures considering proposed compounds, TrueChrom MX™ automatically detects the presence of chromatographically unresolved peaks and determines the number of components in the unresolved peak.  TrueFit MX then uses its patent pending deconvolution algorithm to calculate the pure component spectra of each of the components.  The pure component spectra can then be analyzed by library search to determine the identity each compound from the unresolved chromatographic peak.
TrueChrom MX is built into the powerful Massworks Rx configurable platform and is one of the many powerful features of MassWorks Rx GC/ID.
Find out more from the MassWorks Rx GC/ID brochure or read our poster presentation from Pittcon2018.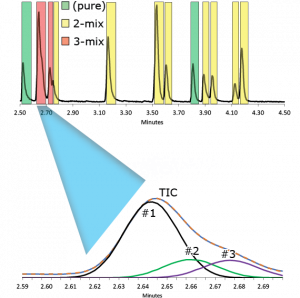 Figure 1.  TrueChrom MX automatically identifies mixture peaks and then quantitatively determines the peak positions and intensity of the underlying peaks.  The pure spectra are then computed for each peak which can then be searched and processed.  Unlike other technologies for peak mixture determination, TrueChrom MX is fully automated and performs up to 10X better by considering the total ion current rather then a few spectral peaks.